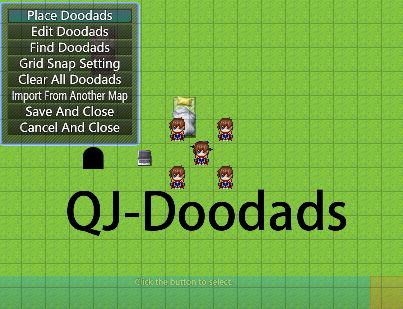 Grid Free Doodads RMMZ
A downloadable tool for Windows and macOS
Testing And Uploading.
Introduction:
It`s a doodads plugin for MZ, the main purpose is to replace the obfuscated VisuMZ Doodads plugin.
I add the more features and design a more easy-to-use editor.
What`s more, other plugins can be extended based on the doodads plugin.
Features (But Not Limited To) And Simple Description:
1.The editor in game. But it only works when in Windows or mac.
2.Place doodads free of grid or lock them to grid when press alt.
You can quickly arrange doodads with grids.
3.Apply a variety of settings to doodads and they can be input directly!
4.Key Delete, Ctrl C and Ctrl V can be used when editing the doodads.
Select multiple doodads at once to move them.
5.The image of doodads can be IconSet, current map tilesets and specail image.
The frame of IconSet and tilesets can be free based on the grid 32/48!
6.The doodads can be animated. (xFrame yFrame FrameUpdate)
If you need base doodads img files, please visit http://www.yanfly.moe/img/doodads_starting_pack.rar
===========================================

Terms of use:
https://qiujiu-9.github.io/?file=001-Terms_Of_Use/0-English
https://qiujiu-9.github.io/?file=001-Terms_Of_Use/1-Chinese
===========================================
Download
Click download now to get access to the following files:
Comments
Log in with itch.io to leave a comment.
Thank you so much for the plugin! Really appreciate it.

Can you set doodads visibility to switches like yanfly's? Also, there was an issue that when an animation was made visible it started on a random frame rather than the first one. A fix was made but not officially.
Are you compatible with Ultra Mode 7 yet? I can push Blizzard if it's him that needs to modify his plugin.

I'm gonna give this a thorough test run. Thanks!
EDIT: Oh, MZ only... :( Let's see if this runs on RETRO otherwise NM.
Thank you for your support!
1.In fact, you can use switches to control the visibility of doodads, just see the setting when you place the doodads.
2.It is compatible with Ultra Mode 7, you can see more information there:https://forums.rpgmakerweb.com/index.php?threads/rmmz-grid-free-doodads-work-wit...
3.I don`t consider to translate the plugin to MV. because it is made to replace the obfuscated VisuMZ Doodads plugin in MZ.
I see your url and Knight Editor is a good plugin.
I may can solve the issues you face when you use it.
my discord:
Qiu Jiu#2185
Hi there! Looking good!!!
Let me know if you need a tester :)
By the way, the download is not available.
Thank you for your support!You are welcome to be a tester! :)
I'm doing my last job and will release the plugin tomorrow.
This is a free plugin so you can use it as you like!